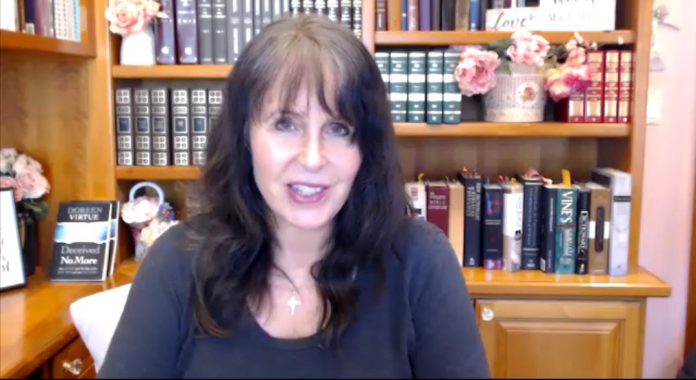 Before I was saved, I had a vision that I was certain was Jesus, because it pointed me to read the Bible and leave the new age. During the vision, I also came to know that Jesus is the Son of God who died for our sins and that the Bible is true.
At first as a new Christian, I loudly broadcasted that I had absolutely seen Jesus. But the more that I studied the Bible and talked with mature Christians, I had doubts about who or what I had seen that day.
Recently, when a disparaging video about me (made by a group that teaches that Jesus is really the Kabbalistic Metatron)* was released, I was so blessed to receive counsel and support from Justin Peters, Chris Rosebrough, Warren and Joy Smith, David Guzik, Don Veinot, Mike Moore, Elizabeth White, Karen Elmquist, Michelle Lesley, Steven Bancarz, Melissa Dougherty, Danny Cooper, Holly Pivec, Emily Massey, Lauren Hereford, Mark Baker, Katy Jay, my born-again brother Ken, and other godly brothers and sisters in Christ.
Some of these brothers and sisters helped me to see that my vision may have been demonic. It's possible that I saw a demon pretending to be Jesus. After all, I was an unsaved new ager at the time and a professional psychic who frequently saw visions at that time (I don't see visions anymore and I have denounced the new age). I was also attending the ultra-liberal false Episcopal Church at the time.
Perhaps when I saw that vision, the Holy Spirit was simultaneously helping me to understand the biblical and orthodox truth that Jesus is the eternal Son of God and that the Bible is inerrant. I didn't believe those facts until that moment on January 7, 2017. Before that day, I held the New Age beliefs that Jesus was just a man who had become an "ascended master," and that the Bible had been tampered with.
At the time that this disparaging video came out and people were gossiping and tearing me down publicly, these godly brothers and sisters also helped me to see that my testimony about the vision could cause some people to stumble, if they went after mystical vision experiences. So, I took down my testimony video and the little self-published book that I had cobbled together soon after my salvation in 2017.
Then, some people called me a liar, Jezebel, and said that I was doing "damage control" for taking down my testimony. Such harsh and slanderous name-calling and 9CV at that!
Also at the time that this was all going on, my new book "Deceived No More" was already at the printer with the story of the vision as a small part of the book. Most of that book is a warning about New Age deception creeping into the church. It's a tell-all book based upon my two decades as a new age insider.
I've written to those who have endorsed the book, and asked them if they wanted to retract their endorsement, given that I am now unsure about what happened to me during that experience on January 7, 2017. So far, none of the people who've endorsed the book want to retract their endorsement. I'm remaining neutral about the experience, because I don't want to say it was a demon if it was really Jesus, and I don't want to say it was Jesus in case it was a demon. Only God knows the truth, and hopefully someday that will be revealed to me.
The vision wasn't what saved me anyway. It was reading Deuteronomy 18:10-12 later in 2017 that convicted me of my sins and caused me to repent and ask Jesus to be my Lord and Savior. I read that the fortune telling, divination, and mediumship I'd been doing made me an abomination to God. This broke me! Up until then, I really thought I was "doing God's work" because my readings seemed to bring people comfort.
I dropped to my knees in sorrow, and deeply repented. I kept saying to God, "I'm sorry! I didn't know!" As I realized how much of my life was a mess because I'd relied upon "angels" (which I now realize are demons in disguise), instead of studying the Bible and trusting in God.
All I know is that something happened that day on January 7, 2017, and the result was that I was pointed to read the entire Bible, which resulted in my salvation in 2017. I don't know the exact date of my salvation, because I was at home and I didn't have an outside event (like church, church camp, altar call, etc) to hang a date on the experience. I just know that after I read Deuteronomy 18:10-12, I got on my knees and repented and gave my life to Jesus as my Lord and Savior.
There's also an untrue rumor that Justin Peters (who's a cessationist) knew about the vision portion of my testimony prior to appearing on my YouTube channel. The video of Justin was uploaded on November 28, 2019. People told him about my new age past after the video came out. They didn't mention my vision to him in any letter that he opened (Justin gets a lot of emails). As far as I know, Justin knew nothing about my vision until the disparaging video was released. That's when a woman named Cara who was writing to both Justin and the disparaging video producers said that she'd warned Justin about my vision – but Justin has proof he never opened Cara's email until after the disparaging video. Some are accusing Justin of receiving warning letters prior to the video's release date. But that makes no logical sense: why would someone warn Justin prior to the video being released on my YouTube channel?
The publisher Thomas Nelson approached me to write the book because they follow me on social media. I didn't have an agent and I didn't seek them out. I am an author, and I get paid for doing that work just like a plumber, dentist, or video blogger gets paid. I'm a relatively new Christian (3 years saved) and a woman, but I'm also highly qualified to point-out new age deception – especially since I will complete my masters degree in Biblical and Theological Studies from Western Seminary next year. These seminary studies are helping me to rightly divide the Word after coming out of a lifetime of deception.
I removed my testimony and the little self-published book because I don't want to cause anyone to stumble. If I heard of some new ager seeing a vision of Jesus, I would be highly skeptical. I also don't want anyone trying to have a vision of Jesus, because that could open them up to a demon pretending to be Jesus.
For those who are making fun about my name, here's some additional ammunition that you can use against me: Before I was saved, I lived 58 years in the secular amoral New Age worldly world. Virtue is my ex-husband's surname. Doreen was my given first name when I was born. Doreen Virtue was my legal married name for decades, and I earned my first bachelor's and masters degrees under that name at Chapman University.
As I wrote in my new book, which is a tell-all, including exposing my previous sins: New age marriages are similar to Hollywood marriages, short, contentious, and built on egos and substance abuse. I fell for the New Age lies that you can find your soulmate twin flame, a person who will completely understand you and there would be no conflict. So every time in these new age marriages that we had conflict in relationships, we thought that meant we were with the wrong person, so we would split up and we would go looking for our soulmate again. I know that sounds insane, and it is because the new age is insanely delusional. That's why I must expose the New Age, because it causes so much damage.
I realize this puts a giant scarlet A on my chest. I was like the woman at the well when Jesus saved me. Sometimes those who sin the most, like me, are the most grateful for salvation and God's mercy. The woman at the well was one of the first evangelizers, telling everybody in the Samaritan community that Jesus was the Messiah. Amazing grace that saved a wretch like me!
And believe me I have repented and repented to God for my sin of divorce. I've also apologized to my sons many times for how they were hurt. But instead of wallowing in self-flagellation, I am choosing to remain public and expose the sins of the new age so that others don't fall into the traps that I was in for 58 years. Some Christians are very forgiving and have welcomed me into the fold. Other Christians are standoffish and are reluctant to welcome this ex-heretic. I get it! In the meantime, please look at my posts on Facebook and Instagram and you will see that I post nonstop against New Age deception, and urging people to read the Bible.
But this is not about me, this is about Jesus and what he did for us on the cross. This is about exposing the New Age deception that is creeping into the church at an alarmingly fast rate. This is about the true Gospel of Jesus Christ.
The group who has been hatefully harassing me, as well as going after John MacArthur, Justin Peters, Todd Friel, Chris Rosebrough and Phil Johnson, has been researched by Pastor Chris Rosebrough who discovered that the group teaches that Jesus is the Kabbalistic "angel" (demon) Metatron. This explains their hateful viciousness in coming after us! You can see this research on https://www.youtube.com/user/Fighting4theFaith under the key word "Prasch."
If you have any questions, please send me a direct message to Instagram.com/DoreenVirtue